WAT ZIJN ONZE EXCLUSIVES?
Naast het verzorgen van Virtual Reality ervaringen organiseren we ook regelmatig exclusives! Dit zijn speciale evenementen in ons mooie VRcafe. Denk hierbij aan filmavonden, toernooien of zelfs workshops. Deze toffe specials vind je hieronder. Check het snel en meld je aan!
We regularly organize great tournaments in the VRcafe! During these tournaments you can compete for cool prizes, such as gift vouchers for the VRcafe or a nice cash prize!
Regelmatig streamt het VRcafe live op Twitch! Tijdens deze streams worden er allerlei VR games gespeeld in ons VRcafe, zoals Beat Saber, Elven Assassin en Superhot VR! 
Want to enter cool virtual realities with and your colleagues? VRcafe is the place to be for a business outing! Book the VR Experience, lasergame in VR or try out VR Racing.
Deze special wordt binnenkort bekendgemaakt…
Regelmatig organiseren we toffe toernooien in het VRcafe. Tijdens deze avonden strijden we om de gaafste prijzen! Op deze pagina vind je een overzicht van de aankomende toernooien. 
Wil je meekijken op afstand? Dat kan met deze VRcafe exclusive! Regelmatig streamen we de tofste Virtual Reality games live op Twitch en YouTube. Kijk met ons mee en praat met mede VR fanaten via de chat!
Het VRcafe is ook op Discord te vinden. In deze server kun je connecten met anderen uit de VRcafe community. Check de server op deze pagina!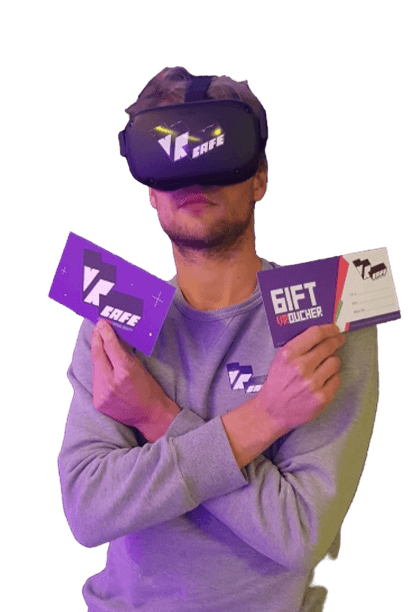 Er is niets leuker dan een VR ervaring cadeau doen, of krijgen! Bepaal zelf het bedrag en haal jouw cadeaubon op in het cafe. 
Heb je een cadeaukaart gekregen en wil je deze laten verzilveren? Laat het aan ons weten, dan reserveren we direct een plekje voor jou!
Hoe tof is het om het hele VRcafe voor jezelf te hebben? Dat kan met ons VIP arrangement. Huur het hele cafe af en krijg toegang tot alle zes de speelvelden. Je kunt deze velden gebruiken voor verschillende experiences, ook voor VR Lasergamen, het VR Racen en meer. Ook de bar, airhockeytafel en arcades zijn gereserveerd voor jullie alleen. 
Ben je benieuwd naar de mogelijkheden?
Neem dan Contact met ons op.